The Rowley Country Club proudly offers MGA Handicap services as a benefit to our members. We take great pride in helping you achieve all of your golfing goals and keeping track of your performance is a necessary step. If you are already a member simply inquire in The Club House and we will help get you set up. If your not a member, signing up is easy and affordable, just ask us about our rates! Below you will find some of the terrific benefits of MGA Handicap Services.
The MGA Mobile App and Handicap Services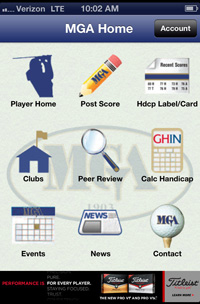 The MGA has launched its own mobile app which is available for free download to all MGA Member Golfers who currently hold an active MGA/USGA GHIN Handicap Index with an MGA Member Club.
The MGA Home mobile app — available for both Android and Apple devices at the App Store — allows you to manage your handicap information from the convenience of your smartphone.
Here are a few of the conveniences you will experience through the MGA:
View your most updated Handicap Index
Post home or away scores
View your scoring history
View your current Handicap Label
Quickly access information for all MGA Member Clubs
Calculate your course handicap
View all MGA event information as well as your registrations for MGA Championships and MGA Member Days
Keep up to speed on golf news through RSS feeds from the MGA, GolfWeek and ESPN Golf
Download the mobile app from the Apple AppStore here:

Or for your Android device here: